Elope with Indy Get Married LLC
Wedding Officiant Indianapolis Indiana
---
For more in-depth information on the weddings I perform please keep reading.
Or to get to the point and see my Wedding Packages and prices Click here.
---
Elopement literally means to run away and not come back.
Although now a days the word "Elopement" is used to refer to a marriage that is more secretive,
without any religious obligations, or fear of family rejection.
Other reasons could be just to avoid any public interaction,
or to just hurry away with your loved one with the intention on just being married.
Not to mention sometimes you just want to save the time, energy, money, and pulling your hair out from stress of planning.
I am a Cheap Wedding Officiant and offer my home office as a very cheap option, enjoy my decor with a chapel feel to it for an intimate place to Elope.
Most of the time I can accommodate same day service,
however, I do require some notice to ensure that when you come I am not already with a client.
I am happy to travel to any location you desire to Elope; From Starbucks to Hospital Rooms…Lets do this!
Whether you decide to have Bridesmaids, Groomsmen, Veil, Special Elements, Candle
Ceremony, Sand Ceremony, or different Religious practices, or even hand fasting with tying an eternity knot….
My job is to customize your ceremony to include both of your beliefs, even if it includes
two different religions, or maybe non-religious but with everything else traditional.
Nothing is wrong in my book, whatever works for you.
Weddings and traditions have changed so much over the years!
Did you know back in the day the Wedding dress the bride wore was just the nicest one she had in her closet.
The "White Wedding Dress" became popular after Queen Victoria
wore a white dress back in 1840 and set the tone since then.
The more traditional color used to be Blue, which stood for Purity, just like White does today.
Back when marriages were arranged they would not allow the Groom to see the Bride before hand
incase her appearance was not to his liking and he decided to run for it.
Now some people take it as bad luck. Others enjoy doing first looks and having the photographer there to catch-all the emotions.
In the end it's your Wedding, your memories, and your beginning to your new life as a married couple. Cheers!!
Barns are VERY popular as wedding venues and what's not to love?
You get a blank canvass with all the neutral colors that come with a barn.
Barns usually are rich in history with lots of charm and character, making for beautiful settings.
Even sharing your day with the wildlife is an adventure.
I remember doing a farm wedding one-summer afternoon. The bridal party and I were set up out in the field, and did not have a barn to have the ceremony in.
When I look up from my script to glance over at some of the guests, to my surprise there were all the cows lined up at the fence watching as they chewed on some grass. Ha!
As for Starbucks I will say I have been there and done that many times. If that is your thing and it makes you happy, then I am there right along with you.
Unfortunately I have even married couples in Hospital rooms, Prisons, etc.
The thing is we are all unique, special in our own ways, and come from all different walks of life.
I am as creative as you need, if you want to get married at the Race Track, an Art Museum, the Park, or even at the Beach (I wont complain about that one)
Jokes aside I wont complain about any of your choices of course.
I love what I do!
LGBTQ Welcome!!
I welcome and have experience with Same Sex Marriages (LGBTQ)
In Addition, count on my experience to perform Inmate and Prison Weddings. Background cleared and Prison Approved.
Thank you for visiting Indy Get Married LLC
As an ordained Interfaith Minister, I dedicate myself to ways I can offer a stress free, creative, dependable, and special wedding ceremony for my clients in the Indianapolis, Indiana and surrounding areas.
I have experience in customizing and officiating your ceremony to be what you are looking for,
regardless of culture, background, Sexual Orientation, or Religion; Most of all, my belief is that we are all deserving of Love and Marriage.
Being a bilingual Wedding Officiant allows me the opportunity to provide service to all different religions, and perform your ceremony in either English, Spanish, or both.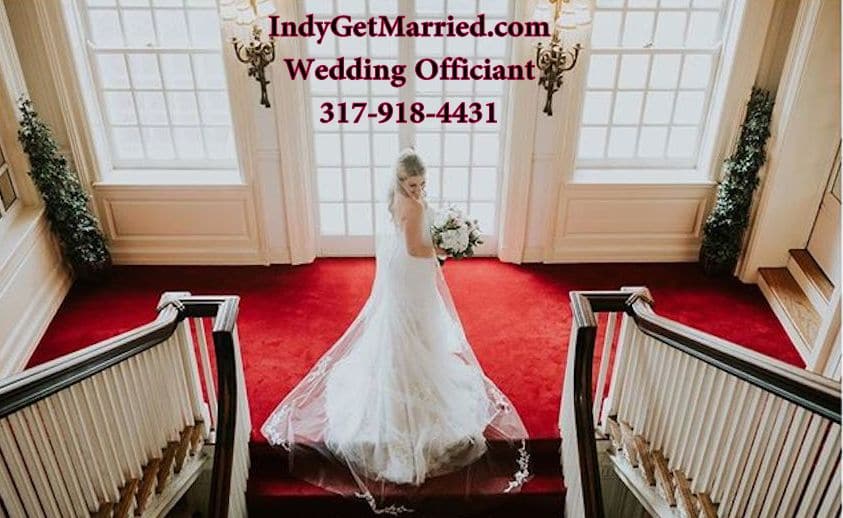 Information on obtaining a required Marriage license in Indiana
Please visit Indy.gov to obtain all the information you need in regards to your marriage license. This is required in order for me to legally marry you in the State of Indiana.
Book Now
With your local cheap wedding officiant
Finally, Once you confirm that the date of your wedding is available, therefore you can proceed to paying your deposit in order to reserve your Wedding Ceremony.
Payment options are: Debit/Credit Card, Paypal, or Cash if paying in person at my office.
Please fill out the book now form after paying your deposit, this way we can get started on preparing your Wedding Ceremony. Thank you for sharing your wedding day with Indy Get Married LLC.
Click here to submit your wedding information once you pay your deposit. Furthermore, you can see my Prices Here . I look forward to working with you and sharing such a meaningful day!