Wedding Packages in Indiana
Sometimes you just need a visual! This graphic might make comparing your options a bit easier for you. Then you can find all the in-depth details listed below.
Chapel Elopement Package
This wedding package is for those of you that are needing a place to get married close to downtown. This is a fast option for those of you looking for a quick, intimate, and affordable experience. I offer my home office already decorated as a chapel for you and your fiancé to elope.
This is a quick and budget-friendly option. Located only 5 minutes away from the Marion County Clerks office downtown Indianapolis. (Where you apply for the marriage certificate.) The chapel elopements are by appointment only. We often accommodate same-day requests if available.
Use of IndyGetMarried Chapel
Romantic Civil Ceremony
Up to three guest's
I offer to take your photo with your camera or phone
Already decorated
Silk Bride Bouquet included for use (no extra cost)
Ask for a professional photographer add on for $75 (You must call and reserve the photographer with me in advance)
---
This Wedding ceremony package is a great option. If you are needing a personalized ceremony at your location of preference. If you do not need my services at your rehearsal, no extra elements added to your ceremony then This all-inclusive Wedding Package is a great fit for your Wedding!
Consultation
Personalized Wedding ceremony (religious, non-religious, romantic etc..)
Option of me writing your vows for you if you choose not to
Travel to your wedding venue or location up to 30 miles from Downtown Indy, Additional mileage only $1/per mile
In English or Spanish. For Bilingual please upgrade to the Royal Package
Need additional elements/union ceremony added (Candle, sand, hand-fasting etc..) Upgrade to Royal Package
As many guest's as you like
---
Royal Wedding Ceremony Package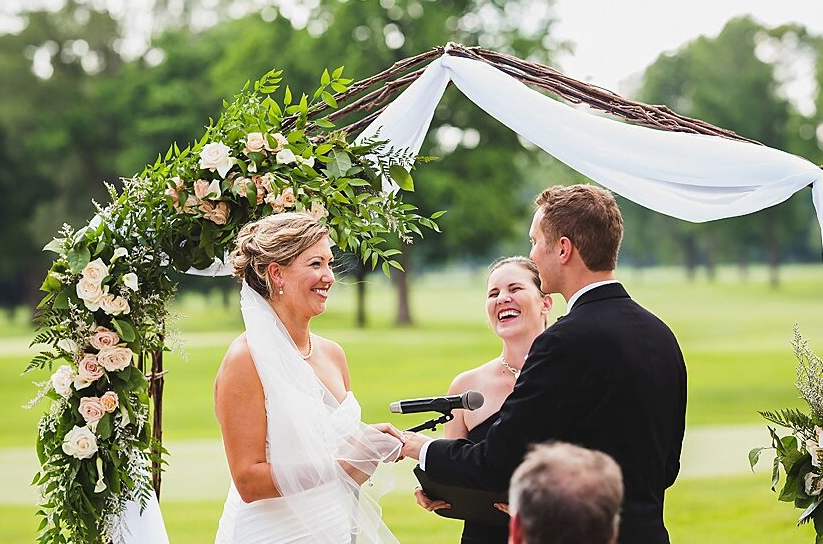 This Wedding Ceremony package was created with all of your needs in mind. Take a look at what is included for this amazing price!
Consultation
Personalized Ceremony
Option of Special Elements/union (Candle, Sand, Hand-fasting etc..
Bilingual Ceremony (if needed)
I can write your vows for you if you choose
Travel to your wedding venue or location up to 30 miles from Downtown Indy, Additional mileage only $1/per mile
Rehearsal included if needed
As Many guests as you like
---
Helicopter Wedding Package (Elevate)
Are you looking for an exciting new way to tie the knot?
I have just the package for you! Move over Las Vegas, Indianapolis is no longer "India no place" we are now marrying couples in the sky. Thats right! Have a civil ceremony. Then take off in a helicopter and enjoy the skyline of Indianapolis as Newlyweds. Wow your future Husband or Wife and create a memory of a lifetime.
A romantic ceremony officiated at the Airport located in Fishers
20 minutes (depart Fishers airport and tour downtown skyline)
Additional time and locations can be added for an additional fee
Weight limit of 300 maximum per person or 550 total maximum weight
For the couple only
---
Canal Elopement Package
The Canal is very close to my office. This allows me to offer this package for a more economic price. The canal is a public space so best of all FREE for your use!! As long as you do not need to set up chairs or tables.
The canal is a great option for you. In front of waterfalls or bridges. Consider taking a ride or getting married on the gondola. (Beautiful boat service offered for a fee at certain times and days.) Gondola Newlywed Ride or Wedding
Best of all afterward you are already in downtown INDY! Many food options, Horse carriage rides, and so many more to choose from. Celebrate your marriage out on the town.
A Romantic Civil Ceremony
You write your vows (optional you do not have to say vows if preferred)
If a special element/union ceremony is needed (Candle, Sand, Hand-fasting, etc…) please upgrade to the Economic Package
I appreciate you considering me as your Officiant and value your time. I am transparent with my pricing to provide you with all the details you need to make your decision an easy one.
There is an option for every budget, each one including the same loving officiant, professionalism, prompt communication, and a ceremony to reflect who you are.
See what previous clients would like to tell you…
"Thank you so much for being our Officiant. We really appreciated that we didn't have to worry about the ceremony at all once it was planned out. The ceremony was exactly what we wanted and you put us at ease during it. I would highly recommend having Lesley as your officiant."
Sarah Quella Indianapolis, In.
How can I book?
In order to book your wedding date, a non-refundable retainer of half of the total cost is required. The remaining half is due a week before your event.
Contact Lesley to verify that your date is available. Let's get your date reserved!