Formal Wedding Ceremony
A bespoke ceremony celebrating your love.
Officiant for Indianapolis weddings.
Meaningful and memorable wedding ceremonies
Whether it's a pre-scripted ceremony or something personalized, my desire is to celebrate your personality and love story. Traditional or alternative, your ceremony will be the most heartfelt reflection you can share with those you love and matter the most
"Our guests were surprised she wasn't an old friend or someone we knew." 
Why choose me as your officiant?
Consultations that focus on you: You deserve a professional, punctual, and responsive officiant. I'll take the time to get to know you, making sure you don't feel like a complete stranger is taking part in your wedding. And I'll work around your circumstances and busy schedule.
"Lesley helped make the planning smoother that I could have ever anticipated." – Shekinah H.
Easy to book your big day: Enjoy a smooth process. You can easily have your contract signed and the retainer fee paid in a matter of a few clicks. Then your wedding is confirmed and reserved! Feel at ease with client portals that show any contracts or receipts you need at any time.
Have someone to coach and support you: You can reserve and confirm my availability with just a few easy clicks. And your client portal will show your contract and payment receipts.
" We loved how easy and efficient it was to book with Lesley" – Constance C.
"From the beginning, Lesley was easy to work with, professional and quick to respond to all of my emails. The ceremony that she drafted for us was beautiful and personal. It was absolutely perfect and she presented it perfectly during the wedding. I highly recommend her services for any type or size wedding ceremony"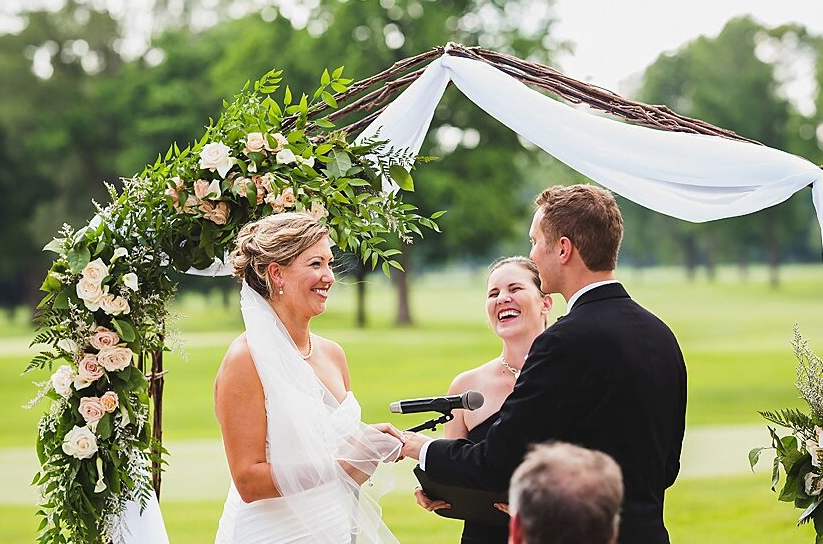 Photo by Casey and her Camera
Creative ceremony collaboration: I will assist you with planning an expressive ceremony, from offering suggested samples to helping you express your deepest feelings by writing your vows. And you will always have the final say. I promise to perform your ceremony in a sincere and caring way.
"The vows created for us were so sincere. We loved having her as a huge part of our big day!" – Peyton P.
Going that extra mile: From the marriage license to any other questions you might have, I take pride in the open line of communication I have with my clients. Count on me to follow up with reminders in regards to your certified copies and provide free templates to help you with your name change which is optional. This alone can be such a process so I offer these tools for your convenience.
"Her wealth of knowledge and patience with her clients sets her apart from others in the industry." -Shekinah H.
Pricing for Wedding Packages
Formal Pre-Scripted Ceremony Package
or $399 including the day of rehearsal
Choice of a meaningful Pre-Scripted Non-Personalized ceremony. Religious tone or Romantic.
Royal Ceremony Package
Includes the day of Rehearsal

Spanish, English, or Bilingual

Guidance with writing vows
Please note: Pricing includes travel to up to 30 miles from zip code 46201. Each additional mile thereafter will be $1/per mile.
"Lesley was so helpful in the time leading up to our wedding. She drafted a lovely ceremony with thoughtful components and took all of my feedback into consideration. She was timely, responsive, professional and a reasonable price. We really enjoyed having her officiate our wedding."